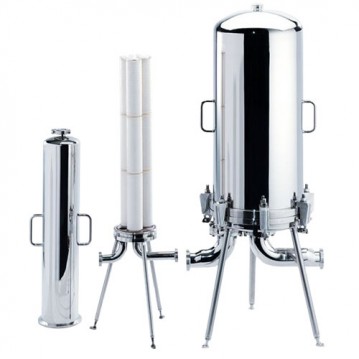 BECO INTEGRA® CART KB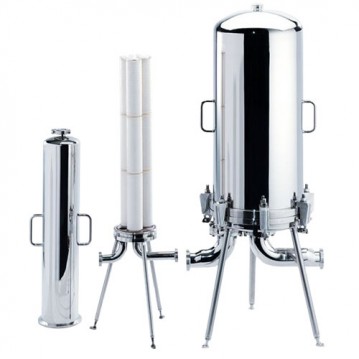 Eaton's BECO Integra Cart KB cartridge housing is available as 1-30-fold type (1-9 filter cartridges) and designed with quick closure between dome and base plate. Different overall heights from 10″ to 40″ enable optimum adaptation to the product flow to be filtered. The cartridge housing is suitable for Eaton pre-filter cartridges and membrane filter cartridges.
Eaton's BECO INTEGRA Cart cartridge housings are manufactured of stainless steel 1.4404 and can be applied within the filtration of liquids in the beverages industry. This series is available as a 1-, 3-, 5-, 8-, 12, 18-, 24- and 30-fold cartridge version for sterile filtration or prefiltration purposes.
Avoids Corrosion Even at Long Term Use
Doubleleaf Bayonet Locking
Quick Cleaning
Compact Design
Resistant to Hot Water or Steam Sterilization
All Eaton BECO INTEGRA Cart cartridge housings (1 – 30 fold) are designed for the filtration of media of fluid group 2 according to Pressure Equipment Directive DGRL 97/23/EG. A variety of different housing heights between 10″ and 40″ or 30″ and 40″ allow a perfect adaptation of the housing size to product volume to be filtered. This reduces product loss and to a minimum. An optimized filtrate chamber design and special filter surface finish provide very easy cleaning and sterilization. The BECO INTEGRA Cart cartridge housings are suitable for the application with Eaton pre-filter and membrane filter cartridges. Other variations and further components for expansion to complete systems are available on request and would be customized according to specification.