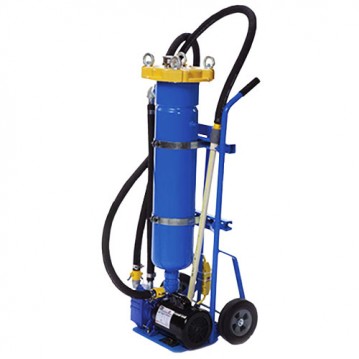 FloWash™ Basic Filter Cart
FloWash™ Basic Filter Cart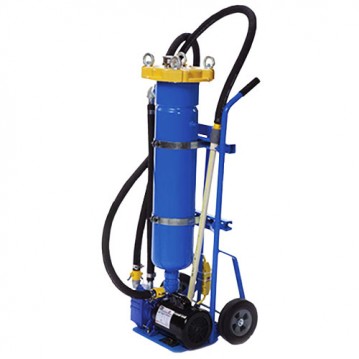 FloWash™ Basic Filter Cart
The Eaton FloWash Basic Filter Cart is an easy-to-deploy mobile system that helps keep your shop floor fluids cleaner for improved production efficiency. It can be used on-line or as a stand-alone filter station. Save on replacement fluids as well as the associated disposal costs by cleaning machine coolants, hydraulic oils, and many other fluids. Keep machine coolants, hydraulic oils, and many other fluids cleaner for higher shop floor productivity.
FLOWLINE II™ fabricated filter vessel features a unique one piece body design with safe and reliable "no tools required" access for bag replacement. The FloWash Basic Filter Cart is rated 75 psi and 180 °F. Carbon steel filter vessel, pump and cart are equipped with Buna-N seals for high-performance, leak-free service. Centrifugal, 1/2 HP pump requires priming only if the pump is completely drained. The fully enclosed fan-cooled, electric motor is outdoor rated and includes a ground-fault circuit interrupter (GFCI).
Filter cart includes a 1" diameter, 45" long suction and discharge wand with an 8' Eaton Weatherhead®hose. Fast acting nylon cam and groove couplings make connections easy. The nitrile with a neoprene cover hose is reinforced with cable wire and fiber braid. SPLASH GUARD cover helps make changeouts safer.
Dimensions: Approximately 22.25"W x 17"D x 51.75"H
Weight: Approximately 185 lbs empty and 243 lbs full (water)
Power: 115 VAC/9A @ 60 Hz
Model: F3F000004-B Basic Filter Cart, Carbon Steel with Buna-N Elastomers
FloWash Basic Filter Cart uses size 02 filter bags. Many options are available to fit your specific need:
LOFCLEAR™
Oil removal and gels
HAYFLOW™
Up to 5 times the life of standard bags
DURAGAF™
Up to 3 times the life of standard bags
SENTINEL®
High quality, durable performance
UNIBAG™
Efficiency with an economical advantage
Customer Success Stories
Brochures
Technical Data Sheets
Drawings
Installation and Operation Manuals