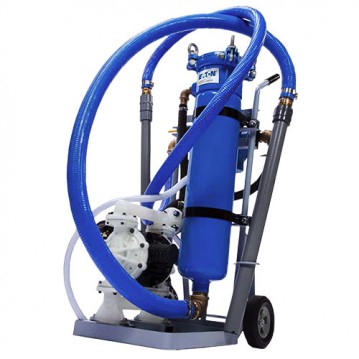 FloWash™ Industrial Filter Cart
FloWash™ Industrial Filter Cart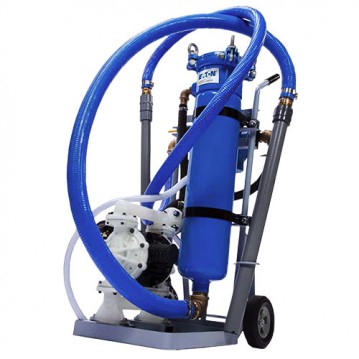 FloWash™ Industrial Filter Cart
Eaton's FloWash™ portable filters are compact, self-contained, and easy to operate. Each model is equipped with Eaton's FLOWLINE II™ high-performance single bag filter housing. A flexible system that operates in-line or as a stand-alone portable filtration system. Safe to operate and easy to maintain.
FLOWLINE II™ fabricated filter vessel features a unique one-piece body design with safe and reliable "no tools required" access for bag replacement. The FloWash filter cart system is rated 125 psi and 150 °F. Filter vessel is available in carbon or stainless steel with elastomer seal options of Buna N, EPDM, or Viton. Double diaphragm pump is powered by compressed air. No electric power needed.
Eaton Model 30R Strainer with a 1/8″ perforated basket prefilters incoming contaminated fluids on the carbon steel model, and the Model 72 Strainer pre-filters fluids on the stainless steel version. The filter vessel includes 1-1/2″ inlet and outlet hoses, extension wands, and pressure gauge.
Dimensions: Approximately 25″W x 31″D x 49″H
Weight: Approximately 220 lbs empty, 278 lbs full
Power: 30 psi shop air (20 to 125 psi operating range)
FloWash Industrial Filter Cart uses size 02 filter bags. Many options are available to fit your specific need:
LOFCLEAR™
Oil removal and gels
HAYFLOW™
Up to 5 times the life of standard bags
DURAGAF™
Up to 3 times the life of standard bags
SENTINEL®
High quality, durable performance
UNIBAG™
Efficiency with an economical advantage
Customer Success Stories
Brochures
Drawings
Installation and Operation Manuals