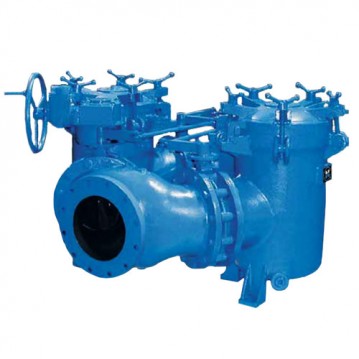 Model 52
Iron or Bronze - Flanged, 10" to 18"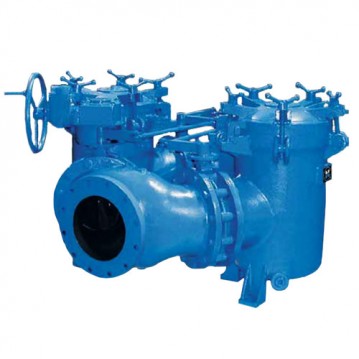 The Eaton Butterfly Valve Type Model 52 Duplex Basket Strainer is a special design with several important features and advantages for large size pipeline with high flow rates. Flow is switched from one basket chamber to the other by a pair of synchronized, high quality butterfly valves. This replaces the diverter plug used on smaller size strainers and gives a straight flow pattern with no sudden changes in flow direction. The result is a very low pressure loss. A 10″ strainer of this type, for example, can handle a water flow rate of 2,000 gpm with a pressure drop of only 2 psi. This is the strainer to choose when you have a high flow rate application and a low pressure loss is critical.
For larger size pipelines with high flow rates the Eaton Model 50 Butterfly Valve Duplex Strainer offers several unique features and advantages over other large size strainers. Among them are low pressure loss, operator friendly quick opening covers that do not require lifting gear, a compact design with a smaller footprint than other strainers, and a special basket design to maximize time between basket cleanings.
Continuous Flow – No Shutdown for Basket Cleaning

Compact Butterfly Valve Design

Quick Opening Covers

Convoluted-Design Baskets

Threaded Drain

Perforated or Mesh Stainless Steel Basket

Vent

Positive Shutoff
Wastewater & Irrigation

Spray Nozzle Systems

Heat Exchanger Protection

Cooling Towers & 

Boiler Feed Water

Machining Fluids

Deep Well Injection & 

Descaling Systems

Lube Oil Systems

Paper Coating & 

Refining
Ductile Iron Construction
Basket Perforations From 1/32″ to 1/2″
Basket Mesh 20, 40, 60
Monel Baskets
Vent & Drain Valves
1/4″ NPT Taps
Pressure Differential Gauge and Switch Connections
Magnetic Basket Inserts