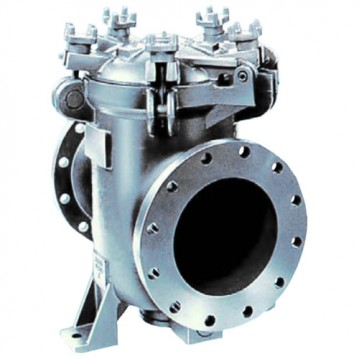 Model 73 Straight Flow
Iron or Bronze-Flanged, 10" to 18"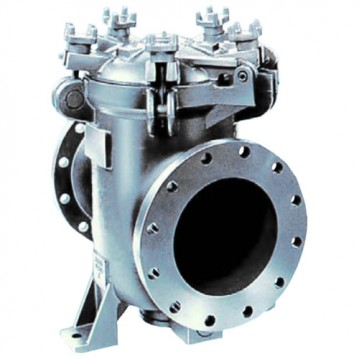 The Eaton Model 73 simplex basket strainer, with its straight flow design, greatly reduces pressure loss and results in a compact strainer that can fit in tight spaces. American Bureau of Shipping (ABS) Type Approved for ship designers, builders and owners.
The perforated or mesh straining screen in the basket is convoluted (pleated).  This increases the amount of straining area available while at the same time reducing the overall basket size and weight.  This makes it easy to remove the basket from the strainer housing.  And the quick opening cover provides fast and easy access to the basket.  What all this means is the basket of the Model 73 is quick and easy to service, saving considerable time and money over the years.
Quick Open Cover
Straight Through Flow Design
Low Pressure Loss
Convoluted-Basket Design
Hand Removable Basket
Threaded Drain
O-ring Cover Seal
Perforated or Mesh Stainless Steel Baskets Standard
American Bureau of Shipping (ABS) Type Approved for Ship Designers, Builders and Owners
Wastewater
Spray Nozzle Systems
Heat Exchanger Protection
Cooling Towers & Boiler Feed Water
Machining Fluids
Deep Well Injection
Descaling Systems & Lube Oil Systems
Irrigation
Paper Coating & Refining
Basket Perforations From 1/32″ to 1/2″
Basket Mesh From 20, 40, 60
Monel Baskets
Vent Valves
Drain Valves
1/4″ NPT Taps
Magnetic Basket Inserts
Pressure Differential Gauge and Switch Connections